Have fun exploring the past and the future on Time Traveller Day
If you had a time machine where would you go? Into the past or straight to the future? To mark 'Pretend to be a Time Traveller Day', our Headteacher Mrs Webster looks at the power of the imagination.
One of our core values at Pilgrims is curiosity, so on this Pretend to be a Time Traveller Day, we would like to encourage the children to wonder about what life might be like living in a different time or place.
Learning about history is important for children because it enables them to develop better understanding of the world in which we live. Building knowledge and understanding of historical events also helps them develop a much greater appreciation for current events today.
This term the Year 1 children 'travelled back to the medieval times' for the topic 'Oh what a knight!' and there has been much excitement about castles, dragons, princesses and knights.
Why not try one of the following fun activities with your child:
Imagine you have found a dragon's egg – you need to build a nest to protect it and wait for it to hatch. Once it has hatched you need to build trust by regularly feeding him from your hand. Next, you can start to train him to fly and breathe fire! Flap your arms, run and jump, then take deep breaths and blow to show your pet dragon how it is done. You have now trained your own pet dragon!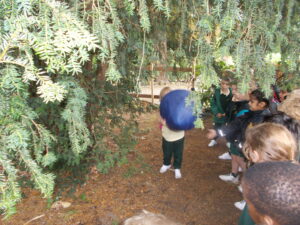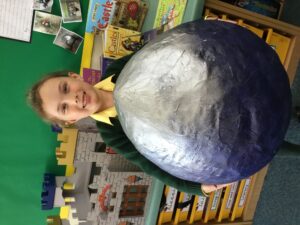 Find a cardboard box and build your dream model castle. Make sure it has a moat, a drawbridge and ramparts. The moat stops your enemies from entering the castle and the drawbridge allows your friends to come in. Decorate it in true medieval style with knight armour and a throne. Then mark it with a personalised flag and become king of the castle!
Knights were warriors who had good manners and were always dressed well. As a knight, you own a horse and protect important people. You need a sword and a shield and some heavy metal armour. Make sure you have all of your kit and then go and fight off your enemies and protect your loved ones from danger!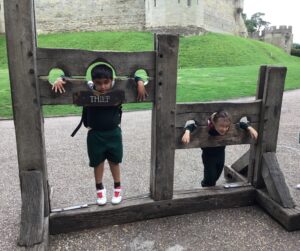 Princesses were surrounded by beautiful things and wore glamorous dresses. To be a princess use your kindness, manners, courage and intelligence to inspire others. Be graceful, true to yourself and give others the royal treatment. Next, imagine you have been locked in a tower not knowing how to get out. Will a brave knight come and save you, or will you save yourself?
Looking ahead
As well as a trip to the past, we would like to encourage the children to look ahead to the year 2021 and beyond.
In the last year our children have experienced uncertain times and there are still restrictions in place at home and in school that prevent them doing many things they used to take for granted.
So why not time travel into the future and look at what you want to do as soon as you can?
Here are some ideas:
Visit family and friends in person
Throughout 2020, we have all spent lots of time video calling, voice messaging and contacting our family and friends through online messaging. While we are thankful to have the technology which has enabled us to keep in touch with loved ones throughout the year, nothing can replace the simple joy of human contact. I know I am looking forward to being reunited with my family and friends!
Throughout the year there will have been lots of special events and important occasions, such as birthdays, arrival of new family members or personal achievements, that will have been cancelled, postponed or celebrated differently. The children might want to celebrate and mark these occasions once the restrictions are lifted.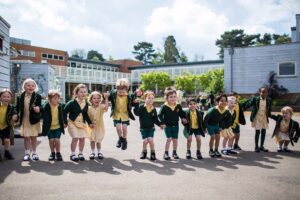 Go on holiday or a short break
Travel both in and outside of the UK has been restricted throughout 2020 and the four walls of our homes have become very familiar. Once these restrictions are lifted, the children might appreciate a change of scenery, whether this is a break in the UK or abroad.
It is no secret that children enjoy a day trip, whether that involves heading to the zoo, the cinema, a museum or a soft play centre. While some of these have been open at points during the COVID-19 pandemic, there have also been restrictions in place.
If you need any guidance or support in relation to the coronavirus pandemic, please go to https://www.pilgrims-school.info/school-life/covid-19/. If you have a query that is not covered on the coronavirus webpage, please call or email Jo Webster or Lucy Nightingale. You can also email enquiries@pilgrims-school.org.uk.