The end of another fantastic year
It has been a busy end to the summer term here at Pilgrims, with our children enjoying another great year packed full of fun and engaging activities. Here, Pilgrims' Headteacher Mrs Webster looks back at a brilliant 2022/23.
From exploring the solar system to welcoming a new four-legged friend to our Pilgrims family, we have all enjoyed so many wonderful moments. Here are just a few of our favourites.
We've been out and about exploring
The Year 2 children began the year with a wonderful trip to the National Space Centre. During their visit to the centre, they learned all about space and had a great time exploring. One of the most exciting parts of the trip was the planetarium, where the presenter was impressed with the children's knowledge of the planets during an interactive quiz.
Year 1 had their own exciting trip during the winter term with a visit to Shuttleworth Museum.  They participated in various activities, explored the aircrafts, and learned lots of facts about aviation.  They followed this up with another trip but this time to London to watch The Lion King on stage as part of their African topic.
We welcomed Maisie!
Earlier this year, we welcomed Maisie, a therapy dog in training, to our Pilgrims family.  Since then, she has quickly adapted to our school community and has formed a close bond with our school dog, Jake.
Maisie's training with a specialist canine behaviourist is going well, and we're excited to see her become an important part of our school. She'll be able to provide support to children in our Pastoral and SEND department.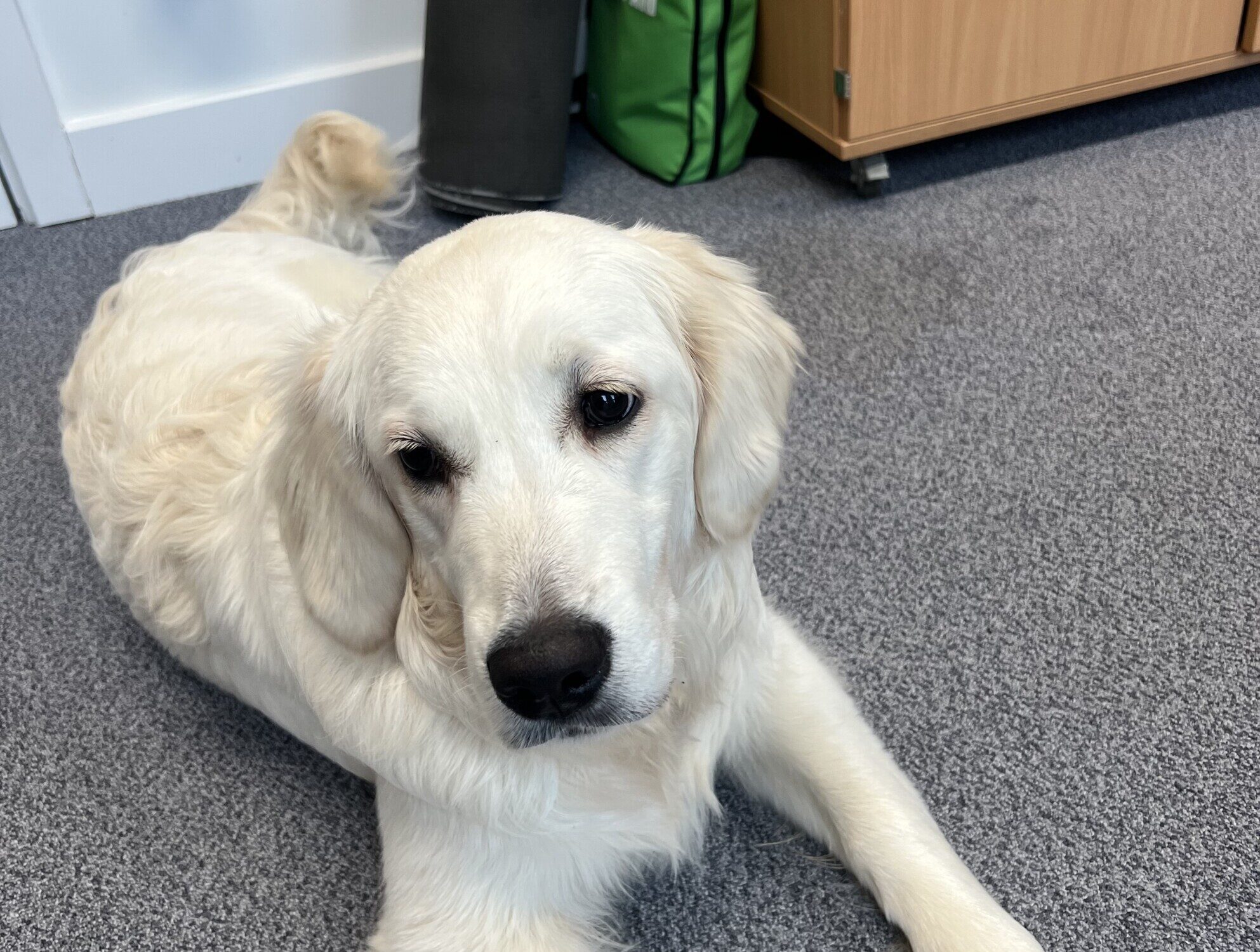 Royal celebrations
In May, we had a wonderful time celebrating King Charles' coronation by holding a mini coronation of our own. To honour this historic occasion, we invited residents from two nearby residential care homes to watch the assembly and join us for a celebratory lunch.  While our special guests enjoyed their lunch, the children had their own picnic outdoors with their teachers and classmates.
Smiles all round
We had an exciting summer term welcoming Binky back to the school to take some beautiful photos.  We can't wait to share all the pictures with you – keep your eyes peeled on our social media channels to see them.
And let's not forget the biggest smiles of all came after the result of our spring term ISI Inspection – we are Excellent and Outstanding, once again!
So, we have all enjoyed another amazing year – and we can't wait to welcome you back in September!