It's Children's Mental Health Week
In an ever-changing world, supporting children's mental health has never been so important. To mark Children's Mental Health Week, Mrs Morales, our Pastoral and SEND Coordinator, discusses this year's theme – Growing Together.
One in six children and young people have a diagnosable mental health problem and many more face other mental health challenges. This is why at Pilgrims, the mental health and wellbeing of our pupils is just as important as their education.
The theme for this year's Children's Mental Health Week, Growing Together, is about growing both physically and emotionally as well as finding ways to help each other grow. In school this week we will be encouraging the children and staff to consider how they have grown and how they can help others to grow.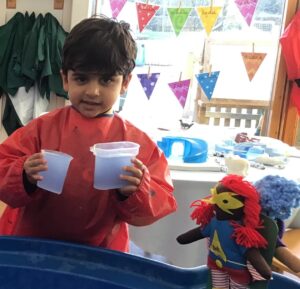 At Pilgrims we work closely with Making Me, a charity which provides our school with invaluable help and support throughout the year. The charity is passionate about children's mental health and at Pilgrims we follow their emotional resilience programme.
The initiatives we work on with 'Making Me' encourage the children to talk about their feelings. We also work alongside all of the teachers and staff within school to ensure we are providing the correct support to those who need it and we perform regular assemblies and workshops to keep parents up to date.
Recently, our Deputy Headteacher, Mrs Quince, gave two assemblies on Growth Mindset using the school's 'Learning Superheroes' – Captain Resilience and the Reciprocity Ranger.  These characters form part of the children's wellbeing programme in school.  Mrs Quince talked to the children about being resilient, staying positive and co-operating with others.  In class, these superhero characters are a visual support for the children as they try out and learn new skills.
This week, I will also be delivering an assembly to discuss what growing physically and emotionally means and how we all need support to help us keep growing, especially when things get tough.
On Friday 11 February, the children and staff are invited to come in to school dressed in Kipsy's colourful garden colours and donate £1, raising funds for the 'Making Me' charity.
If you'd like to find out more about the work the 'Making Me' charity do to support children's mental health, please use the link above.  Alternatively, if you have any other questions about Pilgrims School, please call us on 01234 369555.