The importance of kindness
Kindness goes a long way. To mark World Kindness Day 2020, our Headteacher, Mrs Webster, discusses why kindness is so important for the children at Pilgrims.
At Pilgrims, being kind and compassionate towards each other is just as important as education, which is why we encourage the children to work together to help and support each other.
We recognise that the early years of education are an important part of life because little people start learning from birth. The values that children learn in this time build the foundations for children to create their own character and ethos that stays with them for life.
As adults and role models, we believe it is our responsibility to inspire kindness in our pupils and to teach them that no act of kindness is ever too small.
This is why kindness is one of our core values at Pilgrims – "We treat everybody in a kind, compassionate, caring and supportive way so that everybody feels happy and safe."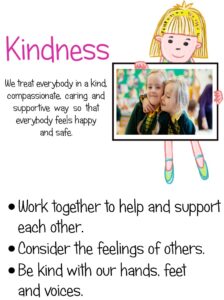 Kindness Award
We also have a special 'Kindness Award' which is given out each term to a child who has demonstrated an act of kindness above and beyond. The award was established and named after one of our teachers, Linda Hewitt, who sadly passed away. The children are aware of how special the award is, so they look after it well before it is ready to be passed on to the next person.
A wonderful example of one of these special acts of kindness was when one of our Year 1 pupils saw that a girl in Reception was anxious about going to our after-school club, Owls, for the very first time. Unprompted, the Year 1 pupil immediately went over and gave the Reception girl a hug, reassuring her that everything would be OK and that she was there for her if she needed anything whilst she was in Owls. How wonderful it was to watch as the nervous girl started to smile and happily walked into Owls.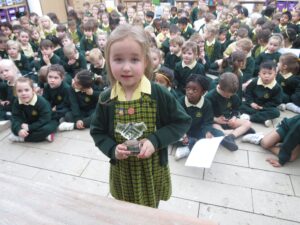 And with the current coronavirus pandemic filling our thoughts each day, it is important for the children to find lots of different ways to show that they can be kind and consider the feelings of others.
The simple act of saying hello when you walk past people or saying please and thank you in conversation are examples of kindness that will come naturally to children the more they are practiced. We encourage the children at Pilgrims to praise their friends, to tell them something they like about them or invite a new friend to join in with their game.
Outside of school, children can chalk a picture outside their house for people to walk past or paint some pebbles and leave them around the area. This will brighten people's day as they walk past or find the pebbles.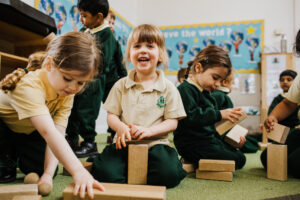 We don't know what battles other people are facing privately, so acts of kindness, no matter how small, can have a significant impact on someone's day and a positive effect on mental health.
Even in the middle of a pandemic, there are still ways for the children to be kind to each other and kindness is contagious. So, this World Kindness Day, encourage your children to be kind with their hands, feet and voices and to carry out at least one act of random kindness.
If you need any guidance or support in relation to the coronavirus pandemic, please visit our COVID-19 page.
If you have a query that is not covered on the coronavirus webpage, please call or email Jo Webster or Lucy Nightingale. You can also email enquiries@pilgrims-school.org.uk.