The importance of friendship
To mark 'International Friendship Day 2020', our Headteacher, Mrs Webster, discusses why friendship is so important for the children here at Pilgrims.
Friendship plays a crucial role in leading a happy and healthy life for people of all ages, but it is especially important for children as it helps them to learn and develop new life skills.
Being kind to each other and making friends here at Pilgrims is just as important as education, which is why we encourage considerate and compassionate behaviour both in and out of the classroom. Friendships develop trust and create a world where everyone can be united and supportive of each other.
Building friendships requires empathy and concern for other people. By valuing friendship, children adopt these characteristics and embrace a more selfless and grateful approach to life. After all, friends are there to offer encouragement and support in tough times and share life experiences in the fun times too.
Friendship can also improve emotional and social development, increase self-confidence, improve communication skills and reduce anxieties and stress.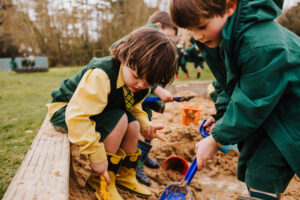 Did your children miss their friends during lockdown?
I certainly missed all of the children and it was great to have all of the year groups back before the summer break, even if it was only for a short period. I think we can all agree that being away from our friends during lockdown has made us realise just how important friendship is and why we all love being at school and seeing our friends every day!
Although it is not possible for the children to hug each other or share toys right now, it is still possible to have fun and play safely together. This lovely video explains to children how they can still show each other that they care and cherish each other's friendships while social distancing:
What can your children do to nurture their friendships?
Children can nurture friendships by spending quality time together, both in person and virtually. Children tend to form friendships with others that have similar interests to them, so if they can, try and help them to participate in activities they enjoy together during the holidays. These can include going for socially distanced walks, visits to the park or even a back-yard BBQ!
If it is not possible for your children to see their friends, then you can encourage them to keep in touch online, over the phone or by video calls. This is a great way for children to improve communication skills and express their excitement while they share with each other what they have been doing in the summer holidays.
Other ways for your children to show friends that they care include making a card or some artwork to send to them, making a friendship bracelet or other keepsake or writing a list of everything that they love about their friends and sharing it with them. These activities show friends that your child is thinking of them and values their friendship, even when they are not physically there.
So, this International Friendship Day, help your children use this opportunity to celebrate the important people in our lives and consider how they make our own lives better.