Let them learn…about bike safety
A yearly visit from Dr Bike, bike races and bike washing are just a few of the activities pupils get up to. As part of Bike To School Week and Child Safety Week, Pilgrims' head Mrs Webster discusses the importance of bike safety.
Teaching children about bike safety from an early age is crucial. Here at Pilgrims, we regularly talk about the highway code. As part of our Healthy Heart fortnight in the summer term, pupils take part in bike safety courses. Once they have learned how to fasten their helmet, stand up on their bike, use their brakes, cycle in a straight line and turn a corner safely, they are awarded with a bikeability certificate to take home.
As we are suitably located next to Bedford Park, many pupils choose to cycle to and from school with their friends in the summer. Bedford several bike routes the children can follow and these are displayed on our school gate.
Pupils who attend our holiday club get the opportunity to bring in their bikes and take part in bike races on the school playground. When the weather is nice, they also get to wash them too!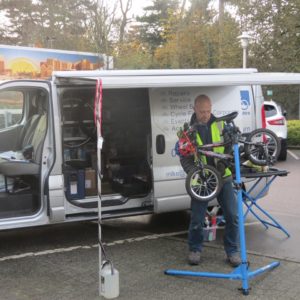 Last year we arranged for Dr Bike to visit the school for the first time. Also known as Mike Hanham of CycleTechUK, Dr Bike set up his mobile repair van in the school playground and worked hard at checking, tightening, greasing and re-positioning more than 40 bikes to make sure they were ready for the winter months. We now invite Dr Bike to visit us once a year so parents can benefit from his services and advice.
As Bike To School Week is June 3-7, we would like to encourage as many pupils, parents and staff as possible to swap the car for their bike and enjoy a ride to school and back.
Pilgrims parents are currently raising funds for a new bike stand for pupils and staff to use from September.
We like to teach the children useful skills and show them that riding a bike is fun and great exercise, while making them aware of the potential dangers. For more information about Bike To School Week, visit their website.